VLIZ news
Southeast Pacific tsunami warning centers improve real-time data exchange
A training for tsunami warning centers in the Southeast Pacific region was supported by the Flanders Marine Institute and IOC/UNESCO. Participating countries optimized the exchange of real-time data from sea level stations as a practical tool for risk management and warning in case of a tsunami risk.
Photo: SHOA, Chili
Following the 15 January 2022
Hunga-Tonga Hunga-Ha'apai volcanic eruption
, a tsunami emergency situation was experienced in Chili, Peru, Ecuador en Colombia. 
As a consequence of this, the Hydrographic and Oceanographic Service (SHOA) of the Chilean Navy organized from 27 to 30 September the workshop entitled 'Shared access to sea level data: a tool for effective regional tsunami emergency response' for representatives of the National Tsunami Warning Centers of Chile, Colombia, Ecuador and Peru – countries that participate in the Pacific Tsunami Warning Center (PTWC).
The workshop was supported by the Intergovernmental Oceanographic Commission of Unesco (UNESCO/IOC) and the Flanders Marine Institute (VLIZ). For years, both organisations cooperate in providing technical support to the global
Sea Level Station Monitoring Facility
, a service to provide real-time information about the operational status of sea level stations worldwide, and to display the raw, unprocessed data stream of individual monitoring stations – handy for a quick inspection in the event of a tsunami emergency situation.
The aim of the workshop in Chile was to enhance the capacities of the participants active in the Southeast Pacific Tsunami Early Warning Working Group (GT-ATPS), and to share real-time data from their sea level stations as a practical tool for risk management in the event of a tsunami threat.
This workshop strengthened international cooperation in emergency situations under the intergovernmental coordination of the Pacific Tsunami Warning and Mitigation System (PTWS), and serves as an example for continued cooperation on tsunami warning in other regions.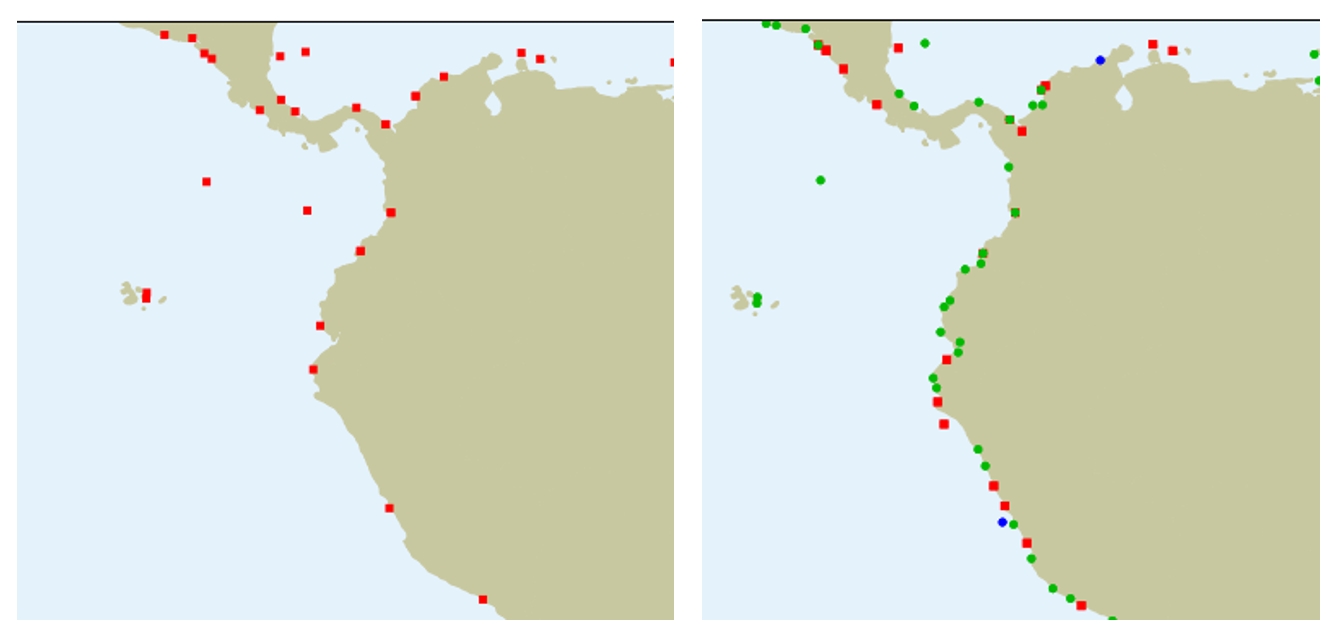 Map of sea level stations in the South Pacific region included in the IOC Sea Level Monitoring Facility (before and after the workshop) | UNESCO Tsunami Programme
Link: http://ioc-tsunami.org/index.php?option=com_content&view=article&id=524
[
Overview
] [
Login
]